For many people telemarketing is just intrusive calls, offering unnecessary purchases or sign-ups for a free event. However, a cold call is just a tool for business development. With the help of a telephone and a staff of trained specialists, the b2b contact center effectively solves the following tasks:
Updating the database. That is, updating the list of clients, new points of sale and production, phone numbers, and email addresses. Telemarketing specialists check the existing information and add new data to the database. This is necessary if such work has not been carried out in a long time, or if the database was obtained from partners and has not been checked.
Expanding the base of potential customers (searching for new clients). In this case, you need to find out if a certain company is a potential customer. If the answer is yes, the name and contacts of the organization are added to the list with the corresponding mark. Telemarketing works like a sieve, separating the grain from the chaff, and does not impose services/goods on those who do not need them and are not interested.
Lead generation. This is one of the most difficult and at the same time the most important tasks of telemarketing since high-quality leads provide sales. It is rare to find a "hot lead" from the first call using b2b cold calling. Most often, you need to build communication with a client in several steps: from introduction to transferring the client to the sales department. Sometimes the whole process can take a month, and sometimes it takes a year or even more. The sequence of actions can be different. It is important to call all customers at least twice a year and add information to CRM. This is how communication with the client is formed.
A b2b company should meet the following criteria:
the consumer uses the purchased products as raw materials;
your product is a means of production for the client (for example, a machine tool, packaging material, transport, and office supplies);
the services you provide are necessary for the buyer`s business (for example, transportation, advertising, and marketing services, consulting, and HR services);
your clients are other companies that use your product for their purposes.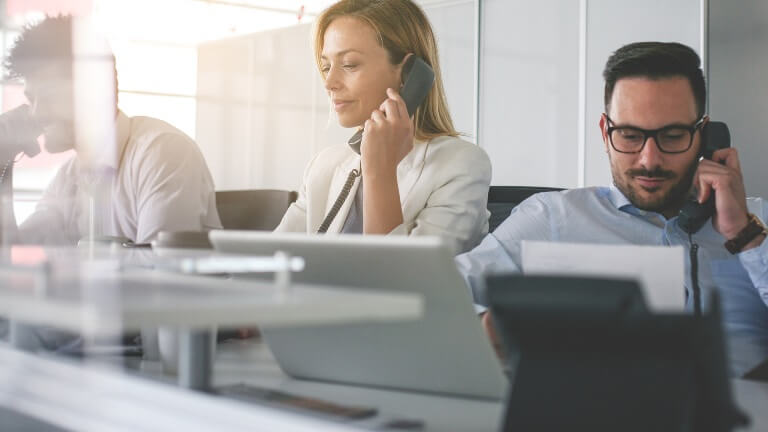 If your business falls into one of these categories, then the creation of a contact center is more than relevant. The effectiveness of this tool is confirmed by practice and numerous positive reviews. What remains is to decide on the contact center format:
creating it on your own;
using the services of an outsourcing company.
How Do B2B Call Center Services Work and How to Create One?
The purposes of the call center largely depend on the type of company. In most cases, they have the following tasks:
organization of incoming and outgoing calls;
calling clients to carry out marketing research or promotions;
communicating in two or more languages;
multi-channel b2b support phone calls.
These are just a few of the main positions that directly affect business efficiency and profitability.
Needless to say, organizing a call center is not an easy task. It requires a responsible approach, as well as attention to all the details of the process. Suppose you have set the goals and results for your company to achieve. To implement them, you need:
placement provided with communication channels;
free phone number;
special software for b2b inbound call center and b2b outbound call center, which allows receiving calls, redirecting calls, forming statistics;
equipped workplaces;
qualified staff: top manager, agents, and back office.
Keep in mind that the initial setup of equipment and training of employees is only the beginning. For effective work, you need to constantly support the functioning of the department:
hardware and software maintenance;
regularly improving the quality of service.
How Does a Corporate Contact Center Differ from Outsourcing Services?
To make the right decision, you should take into account the main parameters of creating a contact center.
| | | |
| --- | --- | --- |
| Parameter | Corporate call-center | Outsourcing |
| Business plan | The organization of the effective work of a contact center should start from the planning stage. Qualification of full-time employees is not enough, so you will have to use the services of third-party specialists. | To receive qualified recommendations on a call center, you need to tell the contractor the goals you are setting for the department at the moment. |
| Technical equipment | As a rule, it is inexpensive equipment that does not provide high-quality communication with the client. | Companies providing call-center services work with high-quality expensive equipment that fully meets modern needs. |
| Placement | To save space or maintenance costs, the call center service is often placed in a crowded and noisy area. | Managers work in special rooms, providing 20 square meters for each worker. |
| Staff | Training staff requires time and finances, as well as monthly salaries. Thus the additional burden falls on the personnel department and accounting. | The staff is already trained. Their salary is included in the service cost. |
What Kind of Employee Would Be in Demand in the B2B Market?
The ability to sell anything to anyone is considered a sign of a good salesperson. A person who is a leader by nature is supposed to be able to organize people and motivate them to work in any situation. However, it does not always work when it comes to b2b customer service.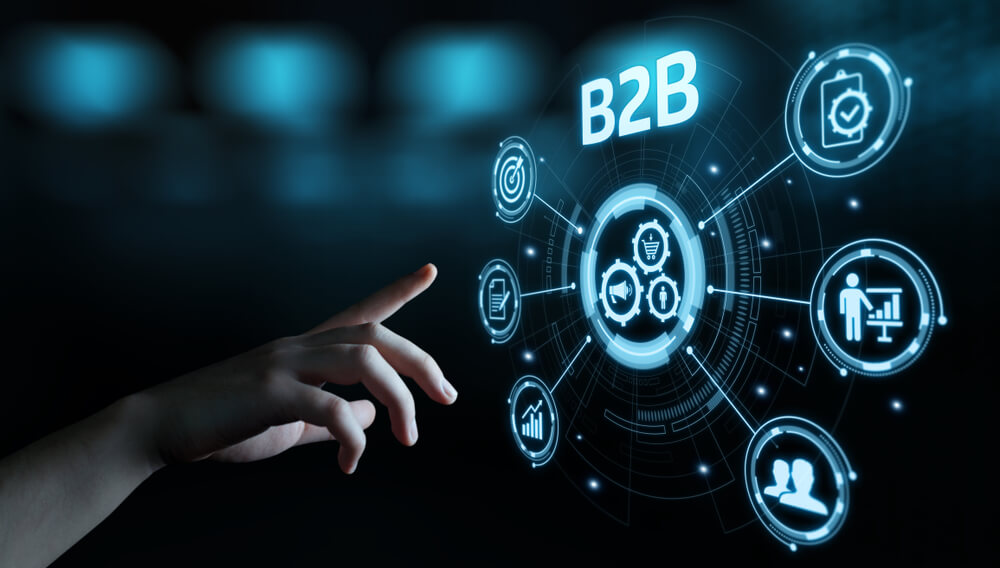 Providing services to enterprises requires the experience and competencies of a sales manager. A good b2b seller is one who:
is a universal seller, actively applying the sales techniques and knowledge of psychology in practice;
good at b2b customer cases - knows the features of the goods or services being sold, easily and quickly learns new information.
Deals, where corporations are clients, are defined by a long sales cycle. The manager at b2b has to do much more than the standard minimum (cold calls, sending commercial offers, preparing product presentations). One must have a strategic work approach, carefully consider and plan each step and predict consequences.
One of the main factors of successful b2b sales is sound personnel management. Many popular methods of staff motivation actively used in other market segments appear useless in this area.
For example, cold calls. If "the more calls, the more deals" works in FMCG, it is not usually applicable to the b2b market. It consists of a limited number of players, and the quality of calls is much more important than quantity. The salary of a sales manager who works in the field of b2b does not depend on the number of cold calls made, there is another way of motivation and increasing wages.
The b2b market is aimed to provide the business with the necessary services and products. Effective work in this area requires not only experience but also strategic planning and sales management skills.
How Much Does it Cost to Organize a Corporate and Outsourcing Contact Center?
Preparation for a corporate or outsourcing contact center setup is carried out in several areas:
establishing network and telecommunications infrastructure;
recruiting staff or redeploying from other departments of the company;
training;
creating the documentation for the call center (job description, service standards, etc.)
Outsourcing
If the company is young, it has a small number of calls, and the need for calling clients is seasonal, it is better to use outsourced contact center services.
This is also appropriate for large companies that have well-established processes for receiving and processing calls. In this case, they will be able to reduce the cost of servicing each call without creating additional jobs and conditions for staff.
The launching of an outsourcing project takes 3-10 days, it costs $100 - $700 per project. Minutes of conversation and leads are charged separately. The price of a minute is fixed and depends on the scale of the enterprise, $1.5 on average. The lead generation costs $0.5 - $20, depending on the complexity of the product and the mass consumption.
Corporate сall сenter
Regarding a corporate center, organizing one operator's workplace would cost about $1,000. It includes:
software (licenses for workstations of operators, supervisors, and other applications);
equipment (server, gateways, headsets, etc.);
implementation and technical support
The implementation period is about a month. During this time it is necessary to:
agree on the terms of reference;
purchase equipment;
prepare infrastructure and placement;
hire and train staff if this has not been done in advance
Advantages of a corporate contact center in comparison with outsourcing:
A one-time payment for software and hardware. There is no need to pay a monthly fee or pay leads.
The possibility of operational control and correction of operators.
The ability to open additional services for other structural divisions of the business. For example, to provide communication not only to the sales department but also to the service department, receiving complaints, etc.
Disadvantages of a corporate contact center compared with outsourcing - significant investment in the organization:
hardware and software;
technical support;
equipping workplaces;
hiring and training specialists;
rental of premises;
staff salaries and taxes.
Conclusion
Choosing the best call center format for your business completely depends on your needs and the specifics of your company.
Why do companies opt for outsourcing by Simply Contact? We have been working for more than nine years and successfully supporting numerous projects in Ukraine, the USA, Israel, and the Czech Republic. Working with us is profitable and pleasant!
If you have decided to outsource your B2B contact center, we will gladly take care of your business needs.
Business Tips
Was this article helpful for you? Share it with your friends.