During this Coronavirus crisis, the practice of teleworking became widespread. For many companies, this work approach has helped maintain continuity of service.
The implementation and management of a remote call center is no easy task. However, with the appropriate use of the right tools and techniques, it is entirely possible to smoothly manage a remote call center.
What is remote customer service? How do I effectively manage a remote call center? What steps should you take to ensure that remote working does not negatively impact the efficiency of your remote call center? These are all important questions that we will take care of answering in this article.
Why Is Managing a Remote Call Center Staff Important?
Nowadays, businesses are required to maintain their productivity through alternative means, namely teleworking. Businesses are reliant on call centers to conduct an important part of their professional activity. Therefore, managing a remote call center is nowadays a necessity.
Not only are remote call centers essential to companies and enterprises. But also vital to ensuring customer service for clients all over the globe.
As such, knowing how to manage a remote call center staff is extremely important.
What Is Remote Customer Service?
Remote customer service is the remote provision of service to customers before, during, and after a purchase
Remote customer service can either:
Be managed internally (dedicated service within the company).
Be outsourced to a customer relationship company (call centers).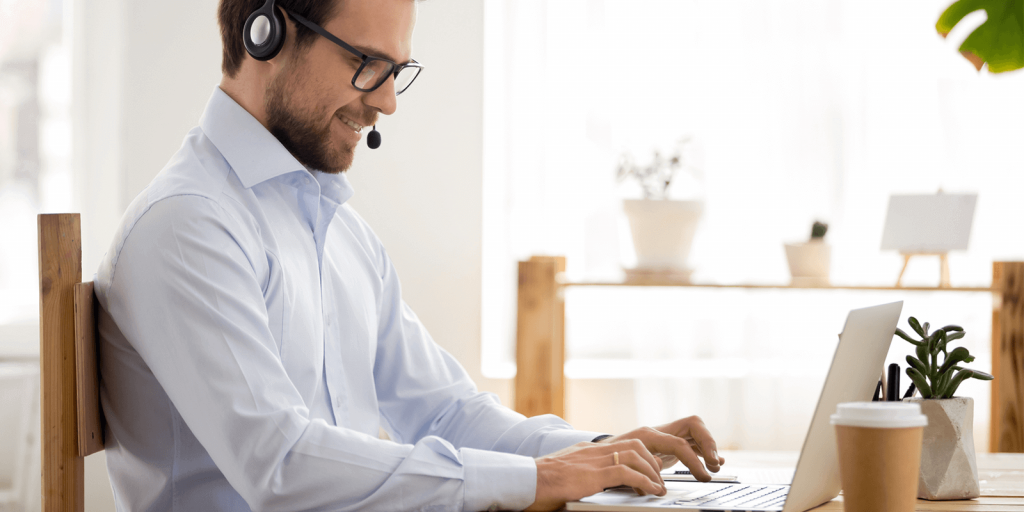 How Do I Effectively Manage a Remote Call Center?
Hold video conferencing meetings
Managing a remote call center translates into a lack of physical contact between the manager and remote agents. A lack of contact and communication will only be detrimental to your remote call center. This translates into a dip in the performance of your remote agents.
Consequently, the whole team's performance is likely to suffer. This is why holding video conference meetings is crucial.
Such video conferencing meetings allow the establishment of effective and consistent communication. And thus keeping your remote agents informed and connected.
Establishing a reliable medium of communication with your remote workers is extremely helpful. This allows the development of professional relationships with your agents.
A strong relationship of trust and support will go a long way in helping your remote call center agents be as productive as possible.
Additionally, holding daily video calls is paramount to fostering an overall positive atmosphere within your team. Hence allowing you to effectively manage a remote call center.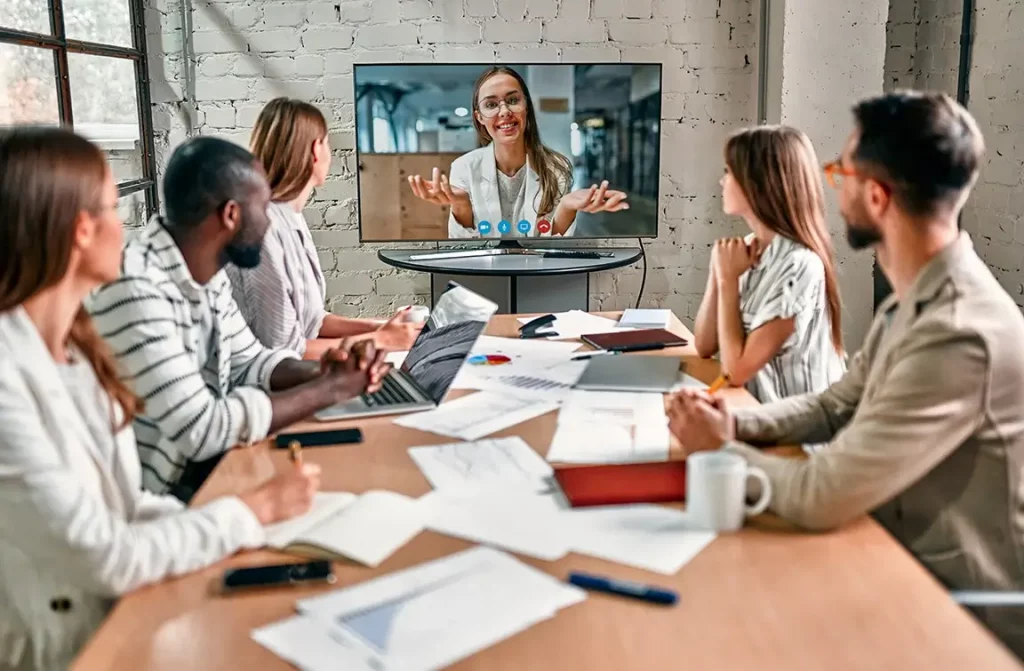 Foster a strong company culture
Remote agents are physically isolated from each other. This can generate an atmosphere of disconnectedness. Such an atmosphere can negatively impact your remote call center's productivity.
It is therefore essential for managers to develop a strong company culture. A company culture based on trust, positive energy, and a shared common goal is key to effectively managing a remote call center.
Track agents' productivity and efficiency
Tracking your remote agents physically is not possible. That is why you can always request call logs, check-ins, and daily reports. These valuable pieces of data will help keep you informed. Especially on how your remote agents are performing as well as their level of productivity and efficiency.
Tracking your remote call center agents makes it easier to effectively manage your remote call center staff.
You can start by using a unified communication platform such as Slack. This tool allows you to instantly stay in touch with your remote agents. It can also help you implement mandatory check-ins when your agents start their working day. Furthermore, Slack can be used to request live updates from your agents on their progress.
Similarly, call logs provide a very efficient way to track your agents' productivity. Call logs can generate detailed reports on your remote agents' activity. You can use such data to make data-driven decisions.
You can find more information on how to measure call center performance and effectiveness in our article.
Develop a detailed training program
When it comes to effectively managing a remote call center, one of the key elements is providing adequate training for your remote agents.
A remote agent should be capable of solving the many different problems that he will be facing during work sessions.
Adequate training will help improve the productivity of your remote agents. Hence, allowing for more effective management of your remote call center.
While many different training programs can be adopted, some of the most recommended options for a call center's training program are:
Virtual instructor-led training. Offers a vast array of different training programs to your remote agents.
Scenario-based training. This type of training is essential to your remote agents' professional growth. As it provides them with the necessary tools to face different problems, and adapt creative solutions.
Adopting E-learning. The major benefit of e-learning is that it provides your remote agents with the ability to take courses at their own pace.
Monitor customer service quality
An integral part of the effective management of a remote call center is efficient monitoring of customer service quality.
Monitoring your customer service interactions will allow you to measure customer satisfaction. And consequently, the productivity of your remote call center. This can be done by the manager tracking call logs and daily reports.
Alternatively, the manager can set up a team dedicated to monitoring customer service quality. This can improve the precision of your monitoring.
Additionally, efficient monitoring will provide you with crucial data and analytics on your remote agents as well as your customers. Thus revealing areas for potential improvement and dysfunctional processes that can be fixed.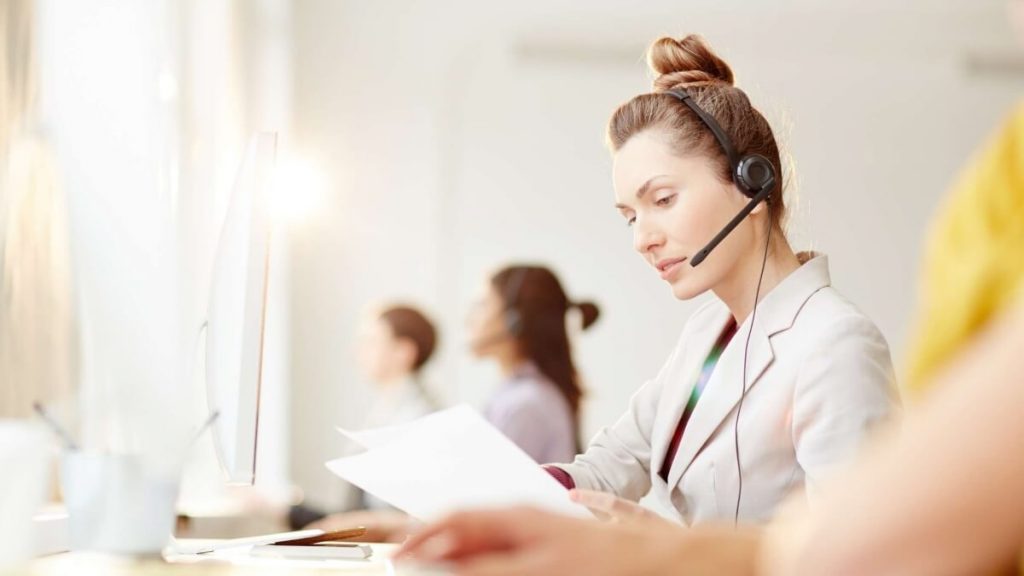 Gather call center and customer service feedback
Customer service feedback provides valuable data that any top-notch remote call center should collect. The opinion of your customers constitutes a foundation upon which you can build and/or reshape your future strategies.
Call center and customer service feedback can be collected by:
Conducting post-call surveys immediately after the call is over or after a maximum of two days.
Scheduling satisfaction surveys to gauge the level of satisfaction of your customers with your products.
You can learn more about customer satisfaction metrics in our article Customer Satisfaction Metrics.
Using speech analytics: speech analytics tools can be used for monitoring your remote agents' performance. They can also be used for interpreting customer feedback.
Summary
All in all, knowing how to manage a remote call center requires above all effort and dedication from the manager. But also an appropriate use of the techniques and tools mentioned in this article.
Remote call centers represent a modern and effective solution to your professional demands.
Additionally, they are the most futuristically adapted solution for any aspiring business. Therefore, if you want to get a consultation or a project estimate to launch your own multi-channel contact center, you can contact us.
Business Tips
Was this article helpful for you? Share it with your friends.