Every company wants to have a stable profit from year to year. But since the number of enterprises increases every day, it leads to a highly competitive environment formation. Thus, entrepreneurs have been looking for new ways of improving the quality of services and products.
For those who still do not know the CSAT's meaning, here is a simplified explanation. Customer satisfaction metrics is a good tool for consumer reviews and opinion analysis. It is a widespread metric in business that indicates the services and products' quality since it is important for all companies to know customers' feedback. According to research, it became the main brand differentiator in 2020. 
The general CSAT definition is the method that helps find out whether the customer is satisfied, partly satisfied, or unsatisfied. This is expressed in a percentage from 0% to 100%. Our experienced team suggests estimating the quality of services and goods using the following scale:
Very unsatisfied
Unsatisfied
Neutral
Satisfied
Very satisfied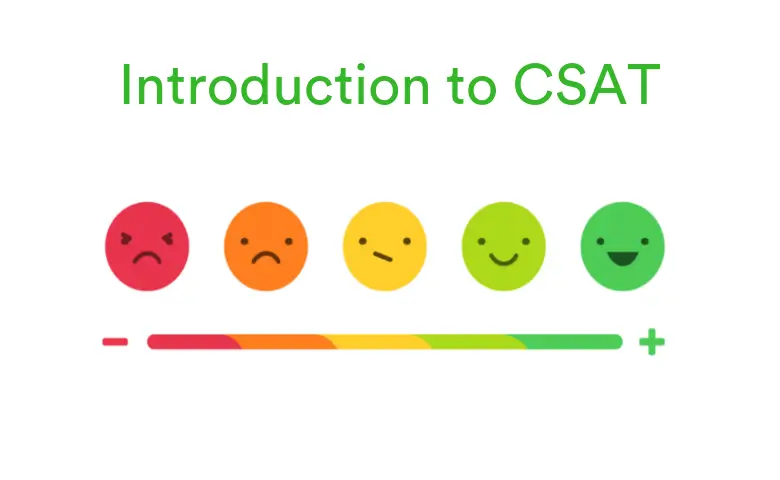 This allows for calculating the average results. But usually, companies measure CSAT scores as a percentage. 
The most known way of getting feedback is a poll. This can be implemented through applications, websites, or SMS. The most effective way is to hire a professional call-center team. By talking with the client, you can get a detailed response. It is the best way to find out the client's opinion and get insight into aspects that could be improved. 
How to Calculate Customer Satisfaction Score?
To calculate the customer satisfaction rating, you need the number of 4 (satisfied) and 5 (very satisfied) responses vs the total number of responses you've received. Thus, you can get the most accurate indicator of customer satisfaction. You can define these numbers using a customer feedback application since measuring customer satisfaction manually is time-consuming.
But if you want to calculate the consumers' satisfaction level manually, our team advises a good formula. You have to take the number of satisfied customers (4s and 5s), divide it by the number of survey responses, and multiply by one hundred percent. If out of 100 respondents, 80 are satisfied, you have an 80% CSAT score. By knowing the percentage of satisfied clients, you can improve the quality of your work. 
What Is CSAT Score?
CSAT is one of the most popular and well-known methods that measure customer satisfaction in various niches. This metric is popular because of its convenience and simplicity. It allows easily identifying of the reasons for customers' dissatisfaction and elimination of them. You can quickly discover the main limitations and immediately react to them. Another advantage is the opportunity to use CSAT for short and long-term projects. You can ask customers several questions at once or do multipurpose research on their feedback. 
What are the indicators that you are moving in the right direction? If you have made some changes according to the client's needs after using CSAT scores and getting certain results, you are doing great. For this analysis, it is important to pay attention to the customer lifecycle. It shows the various steps customers go through while considering buying or using a particular product or service. This lifecycle has five stages: reach, acquisition, conversion, retention, and loyalty. CSAT helps to estimate the client's satisfaction during all these steps. 
CSAT Advantages & Disadvantages
Sometimes entrepreneurs deny the need for estimating the consumers' loyalty systematically. They are afraid to lose their authenticity and authority by pandering to clients' wishes and see it as changing their mission. However, you do not need to go that far. There is no need to change fundamental aspects such as the company's goals and values.
But is it worth the effort? Let's take a closer look at CSAT customer satisfaction pros and cons.
CSAT pros:
Widely known;
Short, intuitive, and simple;
Flexible in identifying the best aspects for your audience;
Easy to use for the customers;
Easy to measure the satisfaction level;
Produces user-friendly data.
CSAT cons:
One-person response;
Limited in depth and detail;
Can be non-systematic because of self-reporting.
You can avoid almost all the disadvantages using the services of a professional call center. This way you can get a detailed response and make sure that it is all organized properly.
CSAT Implementation Difficulties
Another issue that may arise is not fully understanding how to measure customer satisfaction. All people understand "satisfied" and "dissatisfied" slightly differently. It is a subjective opinion. 
Another complication is related to short-term emotional responses. Your emotions can differ because of various factors. For example, you can like the location and atmosphere of a place but dislike the specific employee who worked with you. 
Thus, it is crucial to make a multipurpose CSAT. It is much easier to get an accurate response through a phone call than through a form. The outsourcing contact center Simply Contact has been working in this sphere for seven years and knows everything about customer satisfaction identification methods.    
How to Measure Customer Satisfaction?
People like to feel the value of their opinion. That's why they appreciate the companies' striving for improving their services and goods based on feedback. Let's see some of the most widely used tools for customer satisfaction measurement.
Net promoter system (NPS)
NPS can be used during any stage of the customer lifecycle via different channels. NPS questions can pop up after certain clients' actions on the website (for example, after making a purchase or contacting the support team) or before a meeting. Each company finds its own way to use this metric. NPS helps to define:
Client's satisfaction with specific services and goods;
Customer's loyalty to different brands;
Consumers desire to recommend a company to others.
NPS has a range of 0 to 100 range, where 0 is a bad sign, a score between 0 and 30 is a decent result, from 30 to 70 is a good score and anything over 70 is a very high loyalty level.
NPS also asks the customers if they would recommend the product/service to others. Respondents answer the question using a 0-10 scale, with 10 being "Very Likely" and 1 being "Very Unlikely." It makes it easier to segment clients according to their responses:
0-6 – Detractors (don't like the company)
7-8 – Passives (are overall impressed but have some hesitations)
9-10 – Promoters (love the company and are ready to recommend it)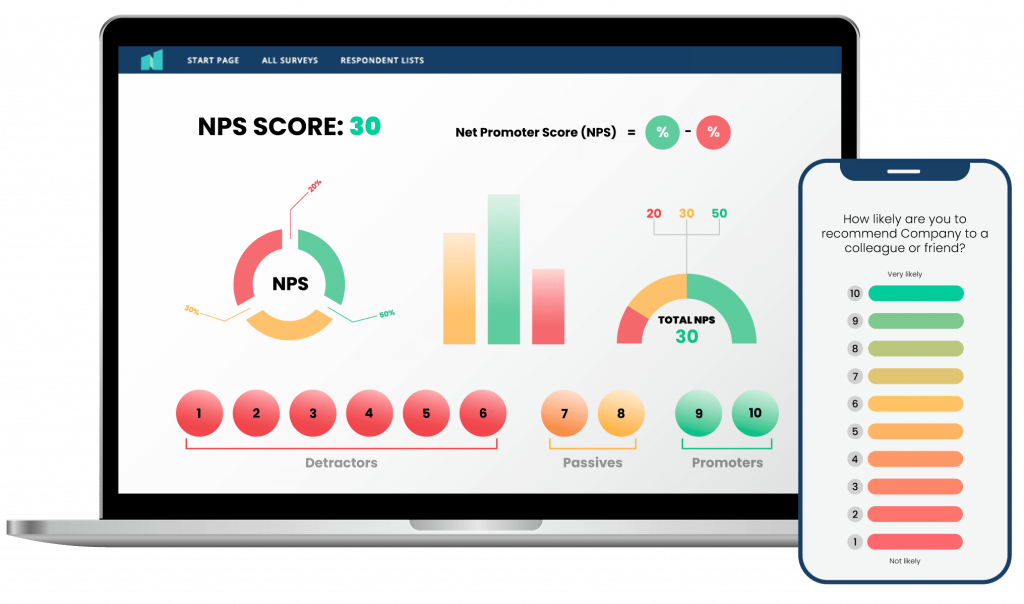 Customer effort score (CES)
CES is another metric that measures the level of customer satisfaction. It focuses on the efforts they make to interact with various services and goods. This metric helps to reveal clients' difficulties in the process of communication with certain brands and optimize it. Such surveys use a single question to find out whether it is easy or difficult for customers to perform a certain action (e.g. get help from the support team, buy specific goods, leave a review, etc.).
CES surveys can be used in various situations:
Immediately after the client has interacted with the support;
After the client has interacted with goods or services;
After the client has made a purchase;
Or any time when you want to measure the overall experience consumers have with your goods and services.
CSAT
CSAT is one of the most widely used metrics that delivers a measurement of customer satisfaction levels. The most accurate result that you can get is after the customer finishes the checkout process since you can get information about the service quality immediately. This method is convenient, fast, and easy to use. 
What to Do with Your Business
The best method to know your client's satisfaction is to interact with them through a call. It allows you to ask any questions and get relevant results. By calling, you can get much more information than by using messages or polls.
Simply Contact is one of the leaders in the niche of call center outsourcing. We know how to communicate with the consumers and get the most accurate feedback. Our experienced staff speaks English fluently. The company can handle projects of any complexity. Simply Contact works in various directions such as telecommunications, financial services, aviation, e-commerce, logistics, beauty, and many other fields. We are an international company working with partners in the USA, Israel, the Czech Republic, and Ukraine. Do not hesitate to contact us if you have any questions left. 
Customer Acquisiton
Was this article helpful for you? Share it with your friends.