Staff turnover is typical for many companies. Nevertheless, their HR departments often underestimate the severity of the problem. Moreover, they take no measures to combat it. Call center turnover rates are sky-high compared to other industries, but what can you do, and how to reduce the attrition rate?
To assess a business's health objectively, it is necessary to understand the difference between employee turnover and loss of staff. Turnover followed by personnel changes causes severe organizational and operational problems. The staff losses reduce profits since vacancies have to be compensated by the leftover employees' extracurricular work. It is essential to identify the causes and outline steps to remedy the situation.
In our many years of experience operating the outsourcing contact center, and building whole call centers per customer requirements, we managed to work out some effective call center retention strategies. With vast expertise in improving the agent team productivity, we can conclude that following are the most useful measures to reduce attrition in call centers.
This article is aimed at companies that strive to maintain a stable staff and develop the necessary competence.
Employee Turnover Statistics
Today, the core of the CC staff are generation Y and generation Z people at the start of their careers. Most "zoomer generation" representatives are emotional and prone to hasty decisions. With their appearance in the labor market, staff turnover began to grow noticeably throughout the world. With such a resource, the adaptation period cannot be stretched over six months because the industry's average operator's life is even shorter.
Loss of personnel can vary significantly in both the size of the business and its sphere of activity. As you might expect, the larger the company, the higher the call center retention rate. The survey by iMercer across various industries shows turnover among different sizes of service vendors:
Small: 17%;
Average: 37%;
Large: 44%.
For many operators, outsourcing CCs are their first place of work. This job requires no previous work experience, management skills, knowledge of machinery, etc. For this not to negatively influence the work's quality and efficiency, a newcomer must be turned into a full-fledged operator in a month at the longest.
As the employee that could not adapt would leave rather quickly, the funds invested in finding, hiring, and training them are lost forever. The same report provides insight into the main reasons employees voluntarily leave work:
Better work conditions opportunity - 81%;
Personal/family reasons - 62%;
Resettlement - 41%;
Bigger salary proposition - 39%;
Proposition for employment to different occupations - 29%.
Of the staff that voluntarily quit their jobs, 44% were representatives of the younger generation.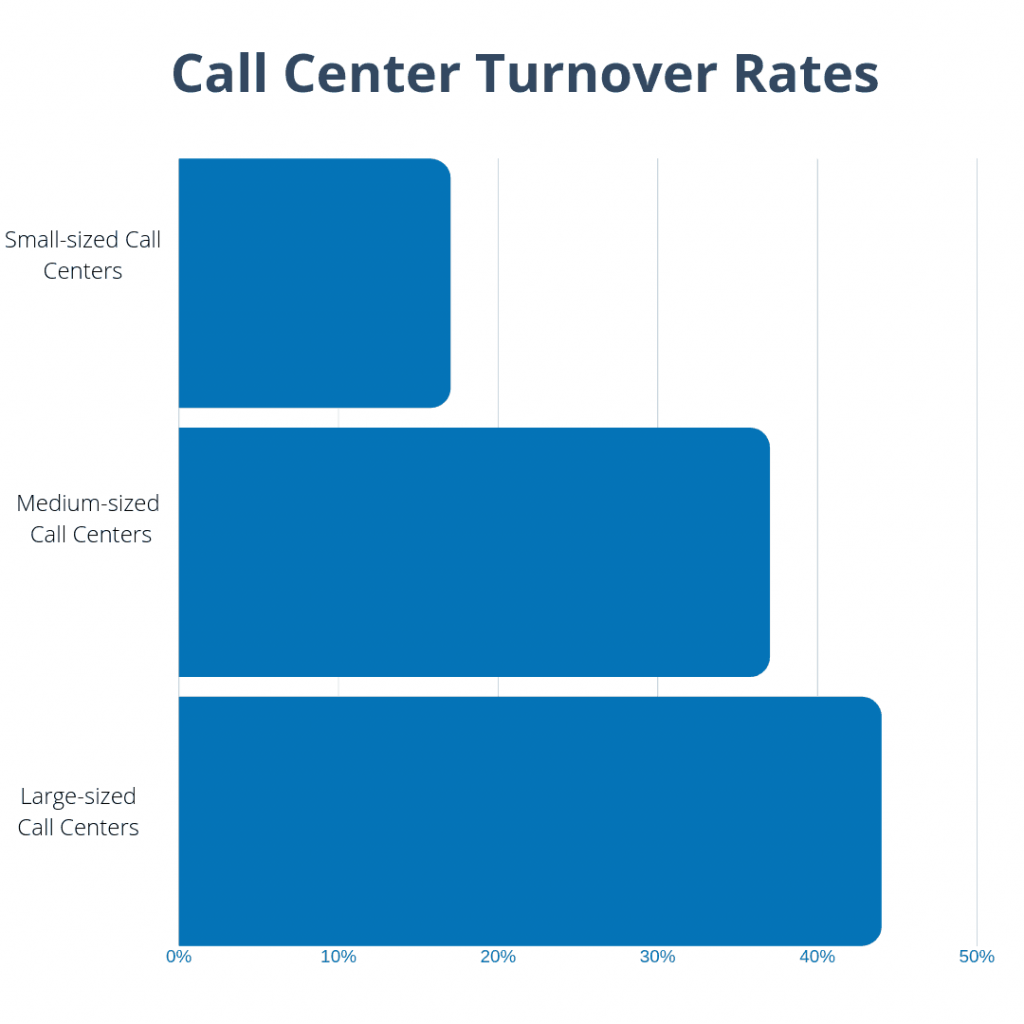 Turnover Cost
According to HumanResourcesToday, US business is losing up to a trillion USD annually due to staff turnover. Each voluntarily leaving employee costs the company about 15% of the position's annual salary. This percentage increases if this employee has been working for a year at least. When the average company loses a third of new hires, the losses eat up the margin set to counter falls due to unforeseen actors like a pandemic.
The constant churn of employees affects the bottom line. The company has to pay employees overtime to cover for the increased load. The extra work irritates employees, making them more prone to quit, thus exacerbating the problem.
Main Reasons for Call Center Attrition
According to our data, the main problems leading to attrition are:
An unbalanced work schedule is when, in the desire to earn more money, an employee takes a large number of shifts and loses the balance of rest and work or cannot manage to continue studying. Different schedules should be developed, full-time and part-time, for students and mothers with children, to solve this problem. Establish a limit to the hours that an employee can work per month.
Low and unbalanced wages, non-transparent KPI systems, and unattainable goals.
Lack of opportunities for professional and career growth. This requires developing a system for the promotion of staff, improving the training system, and clearly displaying the opportunities for growth within the company.
Lack of regular attention from management. The leader must work with the team, and build one-to-one relationships, and not lower themselves into a micromanagerial routine.
Low moral climate. A system of non-financial motivation, thematic days, and team-building measures must be present in a company.
Staff turnover is a common problem for outsourcing contact centers. Most often, either students or specialists who want to work temporarily or have not found a job in their primary specialty come to work. They need to be adequately motivated.
How to Reduce Turnover Rate
If a candidate has been selected, it means that they have the necessary potential. The leader's task is to reveal them and raise the neophytes' desire to feel a taste of the profession. The main goals of such an adaptation process are to:
Convince the person to stay in the company;
Bring their day-to-day operation to the norm of labor productivity in the allotted period.
To do this, you need to analyze the indicators of staff turnover regularly. First of all, you would need to improve the existing business processes.
1. Optimize the hiring process
Attrition management begins at the stage of promoting the vacancy. The first specialist that a candidate gets in contact with is a recruiter. Still, the quality of the job posting needs close attention. It may contain a "naked" job offer outfitted by proposals, attractive to modern youth.
You can improve the quality of candidates by implementing a referral program and allowing remote work. When reviewing CVs, one should consider the candidates' personal qualities, communication, team skills, and cultural characteristics scrupulously. At the interview, it is necessary to define job responsibilities, general objectives and expected performance indicators clearly so that future employee knows what is expected of them.
2. Implement training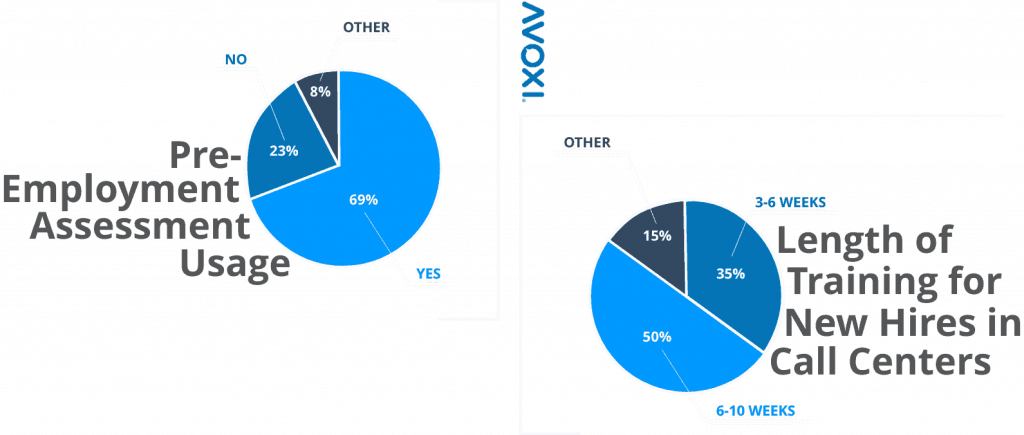 Some operators require more knowledge. The reduction in the amount of training can result in some of the useful educational pieces becoming unavailable to some beginners. This can create feelings of exclusion, inadequacy, and disorganization, leading to the employee leaving the company.
Here are some tips for improving your training programs: Use different teaching methods and coaching styles;
Use different teaching methods and coaching styles;
Set study goals for trainees.
It is vital that each agent goes through the same training period, acquires the necessary knowledge and skills, acknowledges the corporate values, and establishes relationships with future colleagues. The training period must improve the team's interaction and cohesion, creating a place where each agent will feel like a vital member. A highly engaged workforce can reduce a company's employee turnover by 25-59%.
3. Establish direct communication with management
It is essential that agents have clearly defined expectations, receive feedback based on those expectations, and know whom to talk to when they have a problem or concern. They should also participate in making business decisions and receive information about the company's goals and strategies.
4. Build a system of employee promotion
Internal candidates fill most open vacancies in call centers. Use this as an incentive for agents to work harder and promote the best. Staff members must understand that excellence leads to success, so any professional achievement must be recognized.
To facilitate the adaptation process, avoid giving marks and fining newbies in their first working days. When the operator first sits in their workplace, they are already under a lot of stress. This approach will increase motivation, help to build collective morale, and engage newcomers. Daily individual communication and clarification of approaches to setting and achieving goals would be enough at the beginning.
5. Provide opportunities for the professional development
Call center agents who feel that their skills remain the same are more likely to quit. Encourage employees to learn new skills and technologies. They will stay in the team longer and be more competent and confident in performing their duties.
Teams using progressive call center software are more efficient. Easy-to-learn and easy-to-use apps make the operator's job better and more comfortable. This will increase satisfaction and the likelihood of the employee staying longer.
6. Introduce the customer-centric monitoring
The most effective call center agents usually establish personalized communication with their callers and get the most satisfaction from their work. Therefore, customer-centric metrics such as contact quality, customer satisfaction, and first-contact resolution must be monitored.
At the same time, it is important not to overestimate quantitative indicators (average processing time or the number of calls per hour). This will reduce the load on the call center personnel and ensure a low attrition rate.
7. Establish the healthy corporate culture
It is essential to understand what the candidate sees and hears when they first visit the company, how not to alienate them from the start, and work to ensure that the company has an attractive corporate culture. For this, it is necessary to provide:
Comfortable workplaces, including high-quality headsets;
Convenient equipment interfaces, system performance monitoring, etc.;
Enjoyable, easy, and accessible learning process;
Friendly team in which members support each other.
Eliminate the opportunity for untrained beginners to spend their free time with working operators. Why? There is a high likelihood that everyday conversations or difficulties that seem mundane to employees can become completely overwhelming for a candidate.
A call center can be a great workplace loved by employees. Create a great work environment and show that you are investing in the staff members' well-being. And then they will do the same for you, and attrition in the workplace will decrease.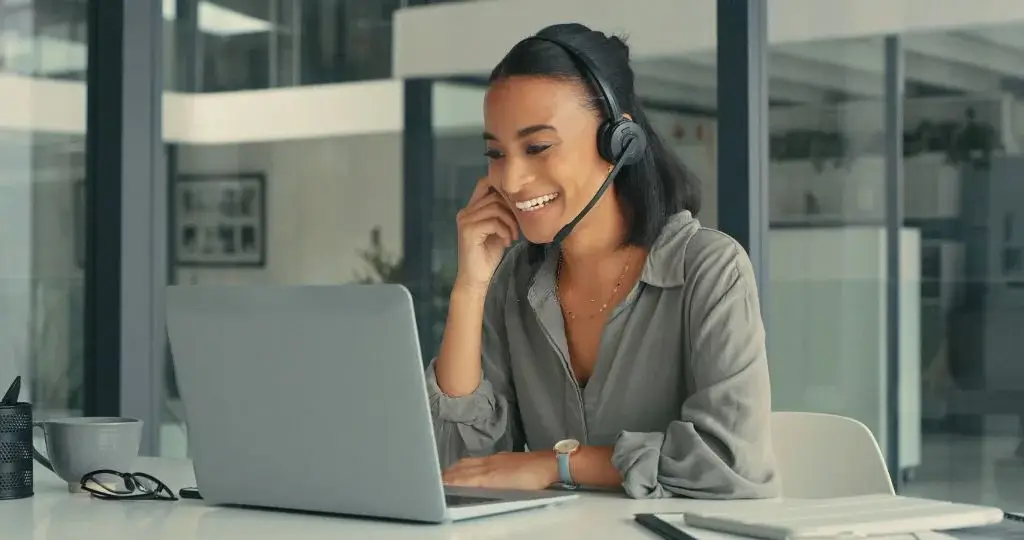 Summary
Staff turnover will always be a problem. But if you and your team take the right steps, you can quickly reduce call center attrition.
How to reduce the turnover rate? Treat your people correctly, and demonstrate that they are valuable members of the team, and you will see a dramatic decrease in employee attrition. Remember, it is not so much about your staff as about your attitude toward them. Motivated agents are the company's face, so why not lead a great team of call center agents who love what they do?
The excellent staff turns a profitable business into a better one. Order an attrition strategy from professionals, and Simply Contact will make your new employees' adaptation process as comfortable as possible!
Business Tips
Was this article helpful for you? Share it with your friends.