One of the key aspects of financial growth is trust. Financial companies are no exception to this. Over the past few years, one of the main hurdles for financial companies has been customer trust.
Many banks offer excellent features but still struggle to keep customers. This is because, above all, customers expect a satisfying customer experience.
You can achieve customer satisfaction in financial services through high-quality customer support. By providing satisfying fintech customer service, banks can harbor trust.
Top-notch financial customer service includes:
Relevant and meaningful financial advice;
Emphasizing an effective and comfortable customer journey;
Focusing on advisor-customer communication;
Addressing customer dissatisfaction, etc…
Providing customers with all these services might seem like a very hard task. You would think that this requires bigger teams and resources. The development of Fintech solutions changes this equation.
By combining the efforts of your teams and the power of Fintech products. You can achieve premium financial customer service. Thus, increasing engagement and customer retention.
What Are the Features of the Financial Support Service?
Financial companies are always trying to improve their services. This includes providing reliable financial support services. As such, banks have been relying on financial call centers to do this.
Most of what banks can do for customers in person, a financial call center can do better. Financial call centers provide high-quality customer support.
Moreover, financial call centers can help banks operate more efficiently. This is because some types of transactions need customer support and assistance.
Features of the financial support services are:
They act as an intermediary between advisors and customers;
They are customer-oriented;
They aim at making financial services as comfortable as possible for customers;
Provide customers with a satisfying customer experience;
They remove the burden of having to meet a financial advisor in person;
They can be available 24/7 (especially Fintech products);
Provide banks with customer feedback and analytics. Such data is valuable for financial institutions. As it gives them insight into what can be improved.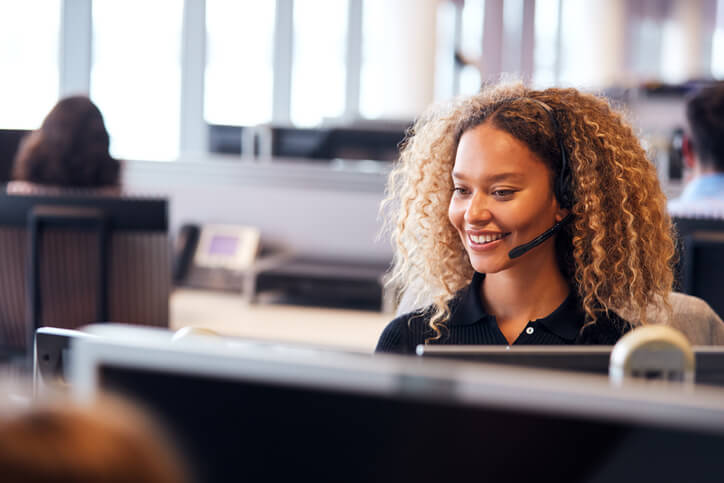 Tips for Fintech Customer Service
Since the financial crisis of 2008, Fintech (financial tech) start-ups have been on the rise. Fintech is a technological innovation that was designed to improve financial services. 
And while banks have already benefited from Fintech products. Customer support is no exception.
Many companies have started implementing Fintech into their customer service. Yet, Fintech products can still be improved to offer high-quality financial customer service.
As such, here are our tips on how to provide exceptional Fintech customer service:
Invest in people, not technology 
Fintech products enhanced the banking experience. Technological innovations have made financial solutions more accessible to customers.
They have also streamlined customer support. Thus making it easier for financial companies to provide customer service. However, communication is the cornerstone of customer support. Fintech solutions still can't provide a similar level of human communication.
Many customer issues can be resolved through Chatbots or emails. Still, a lot of these issues require a "human touch". For instance, most urgent issues can only be resolved via a phone call.
Many financial companies are shifting towards a 100% Fintech approach. These companies risk losing a lot of customers. Nowadays, Fintech customer service can't deal with advanced customer issues.
Moreover, even when Fintech is successful at managing financial customer service. Many customers still prefer dealing with human beings. This gives clients the comfort and understanding they want. Financial call center agents excel at that.
As such, customer satisfaction in financial services requires more humane involvement. It is thus essential for financial companies to invest more in people. This can be done by focusing on human-powered customer channels. For example, banks can invest in customer service based on voice channels.
Use automation to improve workflows and save costs
One of the latest innovations in Fintech is workflow automation. Financial companies struggle to simultaneously provide convenience and security. This is where workflow automation intervenes to increase customer satisfaction in financial services.
Additionally, workflow automation allows companies to save costs. As it reduces the number of tasks requiring employee involvement.
Customer service is one of many services that benefit from workflow automation. Such automation is particularly helpful when for example:
A credit card is lost;
Forgotten bank account password;
These issues are so frequent that automation can easily solve them. Instead of calling customer service. Automation tools can enable clients to easily tackle these issues.
For instance, a customer loses his credit card. With workflow automation. The user can easily disable his card until he can request a replacement.
However, automation needs to be used wisely. The majority of financial service issues require attentive research and troubleshooting. When customer issues require a personal approach, they should not be automated. The use of automation tools is irrelevant in such cases.
Use outsourcing to save costs and hire professionals in customer service
The outsourced customer service industry is estimated to reach $110 billion by 2024!
This should not surprise anyone. Outsourcing customer support can save you resources and costs. Financial companies are no exception to this. By outsourcing financial customer service, banks can improve customer satisfaction.
Financial companies can benefit from the experience and know-how of financial call centers. Here at simply contact. Our dedicated financial teams can help you improve customer satisfaction in financial services. This will also help you save costs and resources.
Invest in self-service tools to reduce customer service budget and increase customer satisfaction
A lot of customers want to solve their issues without contacting customer support. This is also true for financial customer service.
Self-service tools are a part of Fintech customer service. They can be an excellent complement to your financial customer service.
Customer self-service enables clients to solve issues on their own. This is paramount to customer satisfaction in financial services. As it allows customers to avoid unnecessary interactions with customer support.
Nowadays, financial companies aim to serve a large customer base. This translates into heavy customer service requirements. Banks can thus relieve some of this burden by implementing self-service tools. Hence enabling high-quality customer service. But also reducing customer service budget and increasing customer satisfaction.
Some of the key benefits of customer self-service are:
Reduced customer support costs. Self-service enables large-scale customer support at a lower price. It allows banks to reduce the number of customer service teams.
Improved support availability. One of the greatest advantages of Fintech customer service is 24/7 availability. While human-powered financial customer support is limited to working days. Self-service tools can provide financial customer support at any time. This provides customers with the flexibility they require. Consequently, customer satisfaction with financial services is greatly improved.
Enhanced customer support experience. Studies have shown that 81% of customers prefer to solve their issues on their own. As such, self-service is more attractive to customers. This translates into improved customer satisfaction.
More productive customer support staff. Most customer supports tickets are repetitive and boring. Self-service alleviates this. By reducing the number of repetitive tickets in the queue, you are enabling your agents to be more engaged and productive. 
Additionally, this frees up your agents to handle more complex situations.
Increased sales and revenue. Self-service tools enable clients to solve most of their issues on their own. As a result, customer satisfaction is improved.
Happier customers are more likely to do more transactions. This means increased sales and revenue for financial companies.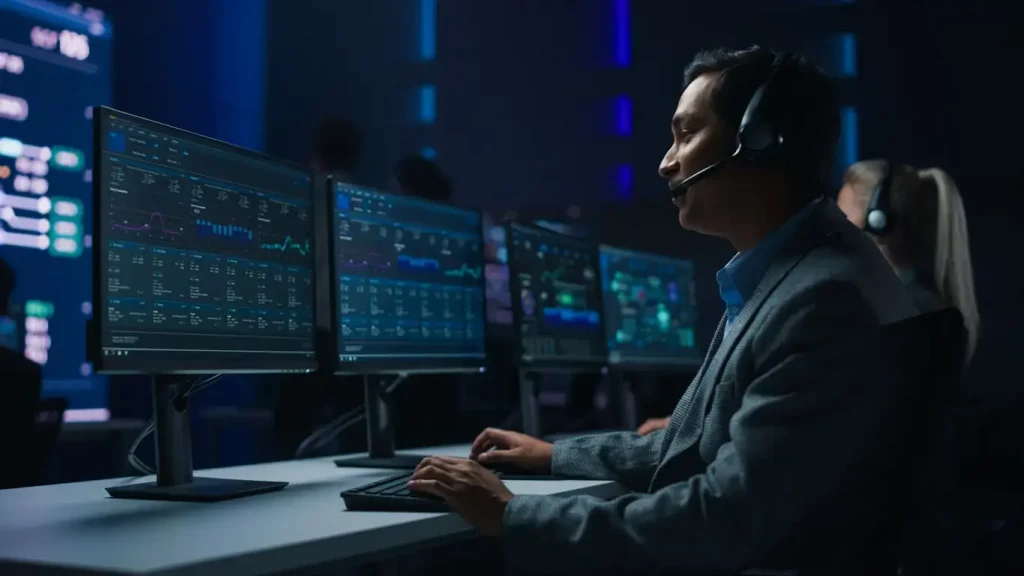 Ensure data security
Trust is at the heart of financial success. One of the cornerstones to trust is ensuring data security. As such, data security should be a priority for every aspiring financial company.
Ensuring data security goes beyond financial transactions and operations. It also includes protecting customer support data. Thus harboring an atmosphere of trust among customers.
Establishing data security within financial call centers includes:
PCI DSS certification. PCI certification ensures the security of card data at your business. This is done through a set of requirements established by the PCI SSC. These include several commonly known practices. Such as the installation of firewalls. Encryption of data transmissions.
ISO/IEC 27001:2013 compliance. ISO/IEC 27001 is an international standard for information security. It was jointly published by ISO and IEC international organizations.
This certification is proof that your financial call center holds data security as a priority.
It demonstrates that the call center's policies have been tested. And meet the standards that ensure confidentiality, integrity, and availability of data.
We at Simply Contact put data security at the heart of our concerns. This is why our financial call centers have both of these certifications.
Provide multichannel customer support
While providing Fintech customer service is a must these days. You can't only rely on it.
Some customers prefer voice channels (phone calls, web calling, and callbacks). Others prefer Face-to-Face channels (video calling and In-store appointments). While the younger generation favors chat channels (live web chat, Chatbots, etc…). 
As such, providing multichannel customer support is essential to customer satisfaction.
Multichannel customer support equips your financial company with all the required tools to help different types of customers. This is key to improving customer engagement and loyalty.
Besides, a multichannel customer support solution allows you to customize the customer journey. Hence, improving customer satisfaction in financial services.
Gather feedback
Gathering customer feedback is essential to improving your customer service experience. Valuable feedback provides insight on what needs to be improved and what should be fixed.
But, most clients avoid surveys. As they consider them time-consuming and boring. You may even see your engagement levels dropping if you put in place too many surveys.
This can be avoided by:
Including surveys in emails;
Providing short and meaningful surveys;
Offering incentives such as entry to contests and sweepstakes;
Other than surveys, you can gather customer feedback via financial customer service channels. For instance, asking for customer feedback at the end of a phone call.
Additionally, you can gather customer feedback from analytics tools. Data collected from analytics is critical to enhancing customer support.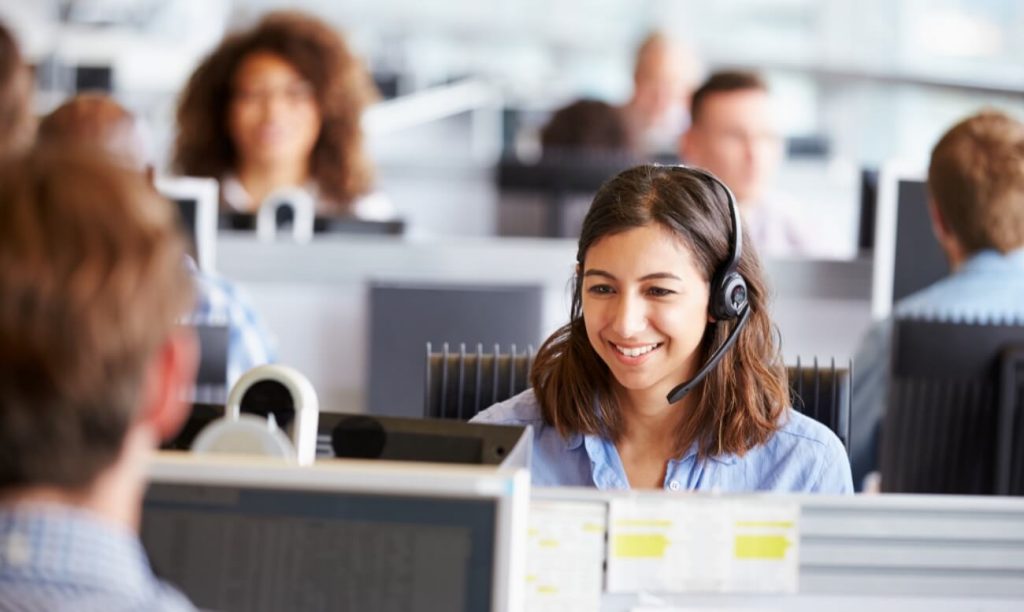 Summary
Financial companies are always looking for ways to improve their customer experience. A key aspect of this is providing excellent financial customer service. Customer satisfaction is a major contributor to increased customer engagement and loyalty.
Financial customer service can be improved in many ways. Outsourcing it to a financial call center is an optimal solution.
If you are interested in hiring a top-notch financial call center. Or want a project estimate on professional Fintech customer support. You are welcome to contact us.
Business Tips
Was this article helpful for you? Share it with your friends.