We all know perfectly what a call or contact center is. You can turn to your mobile subscription operator, to your Internet provider's contact center or to some web store's hotline upon many an occasion. It is always more convenient to ask a real professional in the field of your issue. As such, call centers have long become a regular part of our daily lives.
Top companies and businesses are fast to involve more advanced technologies with their contact centers to make them better and more profitable. For instance, back in 2008, the global rate of implementing cloud-based call centers comprised 2,2%. By 2017, the number grew up to 62%. Nowadays, most imaginable services can be provided and issues resolved through the phone.
Customer service in the healthcare industry is not an exception. But let's dive deeper into the topic of contact centers dedicated to healthcare establishments.
What Is a Medical Call Center?
A call center is a special office or department for managing and processing incoming or outgoing client or user calls. Contact centers perform based on the specialized technical foundation. Communication channels can be established via the Internet, regular landline, IP telephony, or special immediate messaging solutions.
The well-adjusted performance of such a center can give a dramatic boost to online sales, improve the company's reputation among loyal customers, and expand service market niches due to surveys, data collection, and marketing studies.
Call Centers for Medical Facilities
Modern advanced technologies have covered numerous fields of business and human activity, including medicine. Healthcare call center services are among the most efficient ways to gather and fulfill patient requests. Healthcare organizations - be it a private clinic, municipal hospital, pharmacy, or private practice - tend to increasingly hire phone dispatchers. Depending on the scale and specialization of the organization, individual employees or a whole staff of experts for providing 24/7 support can be hired.
The main use of medical call center services is in helping hospitals out with huge inflows of incoming patient calls. This is a pretty serious and painful aspect of their operation. Register offices at regular hospitals have to process hundreds of requests on a daily basis. Booking appointments, specifying doctor schedules, getting consultations - all those are regular patient questions to deal with.
In most cases, patients cannot use time delays and line-to-line runarounds with their questions. They must be aided in the shortest terms possible without taking too much of the doctor's time. That's why prompt processing of calls is simply necessary here. Keep in mind, also, that, according to statistics, medical organizations' clients tend to spend 2.25 seconds waiting for the answer on average, whereas customers in the field of finances can wait up to 3.24 seconds.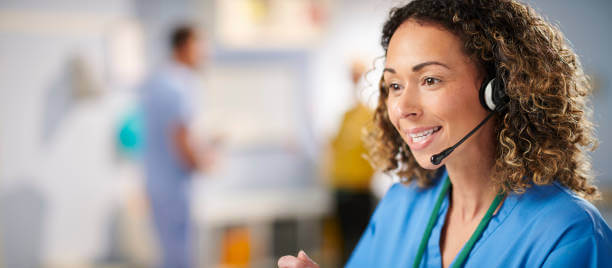 Healthcare Contact Center Specifics
As you may have already understood, it is crucial to properly organize a healthcare call center. The major aspects to focus on here are the speed, expertise, and overall quality of processing calls. Contact center employees must be not only attentive and good-willed but also have a good medical background.
We can highlight the following major functions of such a contact center:
Providing quality info support for existing & potential clients in various questions (schedule clarifications, appointments, description of services, pricing, special offers, etc.);
Processing of complaints & wishes as to the overall establishment performance;
Quality assurance & indication of the level of client satisfaction;
Informing patients about any service shifts & changes as well as about relevant news related to the healthcare establishment.
Apart from everything else, medical call centers can also fulfill a range of other useful responsibilities. Operators can notify clients about special offers, discounts, and such with the help of an auto-dial. Automated notifications as a whole are the best way to provide clients with emergency and highly-relevant info, boosting their loyalty towards your service in the long run.
As in any other field, there are certain specific aspects of healthcare. As for contact center specialists, everything matters in their line of work - tone of voice, types of advice, elaborative questions, clarifications, etc. Clients may be nasty and act distastefully from the get-go. But they must receive the same quality of services as all others do while being subjected to special techniques of regulating conflicts over the phone (of which there are a bunch).
Types of Call Centers
We already know what a call center is and how it stands out in the healthcare field. If you need one in your healthcare company, you can go for the two major types of such support providing facility:
Corporate or in-house call center;
Outsourcing call center.
A corporate contact center is an in-house department in an organization that handles remote client interactions. It isn't simple to implement a dedicated phone support department. Thorough analytics, calculation of hardware-software expenses, costs to hire specialists, rent and maintain the working space are required among other things. When it comes to medicine, you also need proper education and expertise as well as special phone conversation scripts.
Having a call center that corresponds with the above at your side, you will be able to:
Properly receive & process requests & other information;
Analyze healthcare call center metrics
Gather lots of useful statistics;
Reduce the number of lost clients.
An outsourcing call center, in turn, is a more cost-efficient and less effort-intensive way to get your company a full-blown support team without forming any in-house department and hiring more staff employees. You just hire a specialized service provider that takes up all the contact center responsibilities under your command for the time you pay for their services.
In such a way, you simply cooperate with an outsourcing provider that already has everything it needs to provide the support services you need and specializes narrowly in customer service in the healthcare industry. It is a good way to go if you don't want to hinder any of your in-house processes in a bit and continue working without shifting focus.
Surely, an outsourced call center has lots of benefits to it. The implementation of an in-house contact center, however, as cumbersome as it gets, may still be a priority for most large-scale organizations. In this matter, all the pros and cons should be considered.
Comparative Pros & Cons
| | | |
| --- | --- | --- |
| Function | In-house call center | Outsourcing call center |
| Info support | Efficiently handled with quality beforehand education. | Experienced personnel that is trained to clarify any niche questions from the get-go. |
| Deep medical knowledge-based consultation | Well handled; a support employee can always turn to a medical specialist. | Efficiently handled by well-educated beforehand personnel. |
| Client focus - database interaction, knowledge of special offers, work with loyal clients & specific requests | Adequately handled, but the primary goal is to receive & process calls. | Specialized software helps outsourced agents efficiently work with the database, specifying individual client data. |
| Business promotion | Not a regular function when it comes to the in-house support personnel responsibilities. | Specialized software for an automated newsletter, notifications, & auto-dial for regularly informing clients about new services, special offers, etc. |
Summary
A medical contact center is a special organization. As you can see, you need some pro tips to properly handle the implementation of one. Such a structure should work like a Swiss watch and keep up with the overall reputation of your healthcare establishment. A good clinic cannot simply skip the client support question.
As with any business, it should focus on boosting profitability, reducing expenses, and striving for the ultimate quality of service to be successful in its operation. In any case, the personnel that receives and processes calls should be well-trained, engaged in the topic, and pleasant to communicate with.
Make sure all these factors are considered in your case and you will be able to build and keep up trustful, long-term relationships with your clients and patients.
Business Tips
Was this article helpful for you? Share it with your friends.