Business owners know that the quality of customer service is the main key to success. It depends on your customer support whether the client returns to you and recommends your company to others.
When we talk about contact center automation processes vs manual maintenance, some companies still prefer a manual approach. Let's find out which method is the best and how it affects customer service quality in general.
Chatbots
When business owners hear about chatbots, they are usually skeptical, because they think that chatbots use only basic templates that annoy the customers. Thus, many companies prefer to use real people for customer support. But with the development of tech and AI, in particular, chatbots have seriously improved their algorithms.
Now chatbots can handle complex requests and formulate responses to solve even extraordinary customer problems. AI can also refer to the client by name, which gives the conversation a more personal touch.
But the most valuable chatbot quality is its 24/7 availability. This means that customers receive answers to their questions immediately regardless of the time of day.
Omnichannel Customer Support
Today, customer service is not limited to understanding customer needs. To enjoy real success, your customer support must be available across multiple platforms to allow the customers to choose their favored way of communication.
Software platforms like Paldesk allow customers to contact you through your website, email, SMS, Facebook Messenger, etc.
Omnicality also allows your business to be constantly available to potential and existing customers. To provide a high level of manual customer service, you need to distribute your representatives on different platforms, which can be an overwhelming task when you do not have a large team. In this case, system automation will save you from managing each platform separately.
Workflow Organization
Automation gives you the confidence that all information gets to the correct recipients. Plus, it gives you a guarantee that your managers connect with the right people at the right time. It is ensured by segmenting customers into contact groups and identifying the most prioritized of them.
Of course, your employees can perform all these actions manually, but if you need to manage a large data flow, it will take a lot of time and human resources. Automating customer service shortens the team's work duration and frees them up for more important tasks.
Automation Process Management
Automation requires configuration, monitoring, and management that may not be suitable for companies that look for fully autonomous customer service solutions.
In this case, it is best to outsource your customer service team. This solution helps you take the burden off your employees and eliminate the need to create customer service plans. An outsourced customer support service also helps to increase the growth of the customer base.
If you would like to outsource customer support, please contact us at Simply Contact. Our best specialists will provide the best call center services for your customers.
Information and Customer Data
Regardless of whether you use automation or manually connect to clients, you need to collect their data, such as name, location, workplace, job title, etc.
The main difference between automation and manual control is the data processing method. Automated system segments all collected data. This also can be done manually, but in this case, it will take the employees a lot of time that could have been used for more important tasks.
FAQ
Let's explore a few questions most often asked to Simply Contact specialists.
What tasks in the contact center or customer support should be automated? What are the benefits of automation?
Automation should be approached consistently and the internal company processes should be compared with the client's needs.
For example, if a bank customer's card has been stolen, immediate automated card blocking is preferable to going through a live operator when every second counts. 
On the other hand, when a client wants to learn about a service, they expect a personal approach from the company representatives (the client's historical analysis, their needs at the moment, etc.).
Usually, customers contact support services when they are not satisfied with the service or product. In this case, providing the client with a live operator is also a better choice.
How can you ensure that automation doesn't decrease customer satisfaction?
To ensure that automated customer services do not decrease customer satisfaction, you should create a pop-up window that polls website visitors about their satisfaction with certain services. Based on the data obtained, you will easily analyze the level of the automated services.
It is also good to give the client a choice and take into account their personal needs.
What tasks shouldn't be automated and why?
Let's look at a few cases where automation would be inappropriate:
Multi-layer phone tree. Client-oriented IVR (Interactive Voice Response) can be ineffective if done poorly. Your customers may be stuck in an endless telephone queue, or they may be disconnected. This usually leads to frustration because the customers want to have their problems solved quickly. Do not force the client to listen to the options they are not interested in, instead offer several options to choose from;
Excessive targeted marketing. When a consumer shares with you their contact information, they expect to be treated with respect. If you send them spam every day, there is a high chance the customers will leave;
Voice and translation automation. Automation of voice chat and translation can be relevant only if you own progressive AI technologies. But even in this case, you may face problems in filtering the noise and the perception of accents.
Best tools to automate customer service
Here are the most popular helpdesk automation tools:
How to properly approach the automation issue?
Here are some tips on how to approach automation customer service:
Choose the correct software type;
Document and report client-side issues in advance;
Do not automate all processes
How to properly implement new processes?
Below are our tips on how to implement new processes in the best way:
Think of automation as collaboration;
Use automation to optimize the purchase path;
Use already developed and successfully tested tools;
Collect feedback for continual improvement
What exactly do we automate at Simply Contact?
At the moment, our main task is to automate internal processes, migrate from manual labor in the operating unit and pay more attention to our clients. We also optimize internal and external reports for working with the customers, update information, and add to the knowledge base for products and services.
We also automate some training courses for our team. When it comes to clients, we take a personalized approach to our work. For example, during the implementation of a project with chat support, we can face the problem that none of the dozens of existing templates meets the client's expectations. Each request has its details, which we call markers, that give us an understanding of what is important to our clients.
Call Center Automation or Manual Control: Conclusion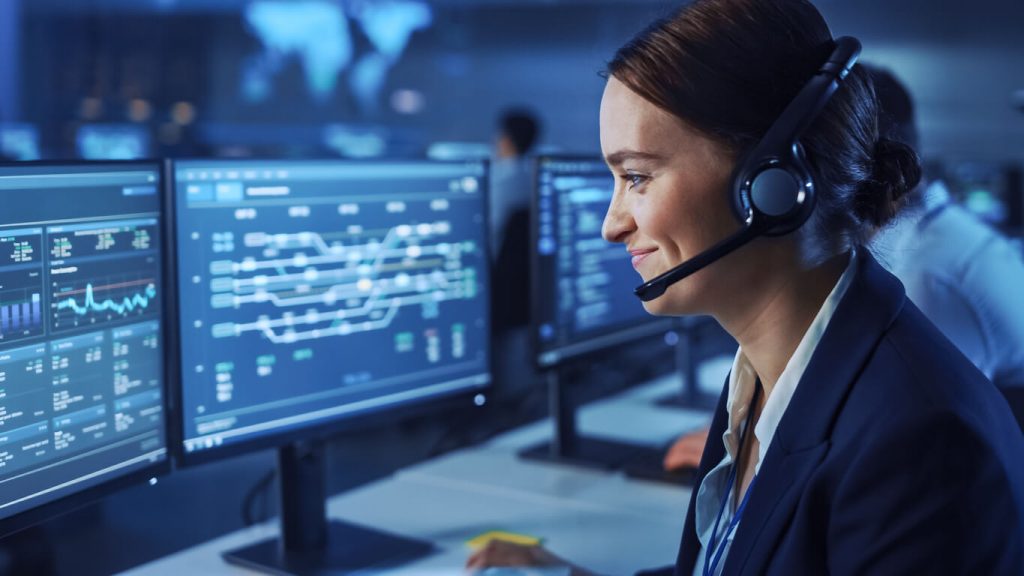 The choice between whether to automate customer service or control it manually depends on the size of your business. If your company is small, you can most likely do everything manually, but this does not mean that you will not experience any benefits from automation. But if you have a large company, you just cannot work without automation.
Although manual customer service has an undoubted advantage - interaction with real people - modern chatbot solutions are rather smart and can provide the same quality of service.
You can use a combination of both approaches to ensure your customers get the first-class service they expect.
If you decide to use outsourced customer support services, Simply Contact specialists will provide the best call center for your customers. You can also learn a lot of interesting things from our blog.
Business Tips
Was this article helpful for you? Share it with your friends.